Master Gardeners' Group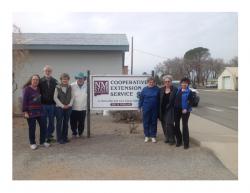 Luna County Extension Agent Jack Blandford announced that the Master Gardener Hotline will resume operation beginning this week. "I am so pleased that we will be able to make this important resource available again to Luna County residents," said Blandford. "Anyone can call in during Hotline operation hours with gardening questions and our Master Gardener volunteers will be there with the answers."
The Hotline will be open from 9 to 11 a.m. every Thursday except holidays. "I encourage people to call in during these times," said Blandford. "That way they can get immediate assistance."
"Many people think this is a difficult area to garden in," said Blandford. "But you can grow almost anything here and, what's even better, you can garden year-round. Our volunteers will be happy to recommend what to plant and when to plant it and, of course, help deal with those garden pests. They can also give information on pruning roses—everybody's favorite—and how to plant trees that do well here."
Luna County residents should call 575-546-8806 or come into the Extension office between 9 and 11 a.m. at 210 B Poplar on Thursdays. Calls made at other times will be returned as soon as possible.